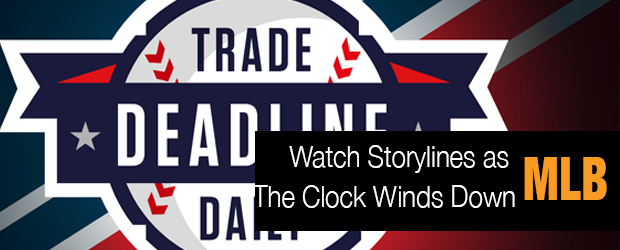 On Monday at 4 p.m. ET, the 2016 non-waiver trade deadline will have come to pass. Over the past few days ee've already seen plenty of notable deals go down, as names like Aroldis Chapman, Andrew Miller, Drew Pomeranz, and Mark Melancon change teams.
With that it is expected to see more needle-movers go down before the deadline bell tolls and deafens us all. Here are some of those we will be watching for.
Will Jonathan Lucroy stay or go?
The Milwaukee Brewers ' catcher was almost traded to the Cleveland Indians over the weekend, but he wound up vetoing the trade, as was his right per the terms of his contract. That, of course, doesn't mean he won't be dealt. After all, it's a partial no-trade clause that Lucroy has in his Brewers deal. After the Indiands deal got squelched, the NY Mets and the Texas Rangers re-emerged as players for Lucroy, and he could be dealt to either of those clubs with or without his approval. Needless to say, Lucroy would be a big catch. He is an excellent defensive catcher who also  -when healthy-  puts up big numbers  at the plate by positions standards.
And what is he is traded to a team that eventually runs into the Indians in the postseason? Wouldn't that be something?
What is in the pitching market?
Pitching is always a leading deadline focus. We've seen some rotation arms get dealt, most notably Pomeranz. That said, there's plenty more out there. Chris Archer has endured a down year, but he has ace stuff and a Cy Young-grade season (2015) in his dossier. Will a team overlook Rich Hill's recent blister problems and pry him away from Oakland? Or are the A's, as rumored, working on a contract extension with Hill?
While it seems unlikely, perhaps the Rangers, Red Sox or Dodgers will pay the steep cost necessary to get Chris Sale or Jose Quintana from the Chicago White Sox? The Braves seem inclined to keep Julio Teheran, but he has been the subject of past trade rumors. Jake Odorizzi? He's a candidate. The Phillies seem likely to flip Jeremy Hellickson before he turns back into Jeremy Hellickson, and Hector Santiago and Ervin Santana may also be in play. Among contenders, the Rangers, Dodgers, Orioles (even after dealing for Wade Miley), Blue Jays, and perhaps Tigers could use rotation help.
What will the AL's most compelling deadline team do?
The Rangers are in first place, yes, but if you look at their run differential then they should really be just barely above .500. If you look at their more granular indicators at the plate appearance level, then they've played like a sub-.500 team. In part, that's why the sportsline Projection System expects the Rangers to play .474 ball the rest of the way.
You can dispute those forecasts, of course, but what's not disputable is that the Rangers have roster needs. If they're to stave off the Houston Astros in the AL West, then the Rangers would do well to fortify the rotation and add some velocity and swing-and-miss to the bullpen.
You can create your own forecasts and take action by betting the MLB, sign up at: http://heritagesports.eu
Categories: Sports