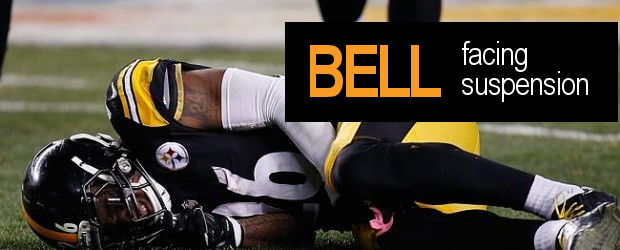 Pittsburgh Steelers running back Le'Veon Bell is looking at a four-game suspension for a violation of the NFL's drug policy. The suspension is the result of reportedly missing multiple drug tests, not a failed one. The appeals process is ongoing, which is why the suspension hasn't been announced.
According to the NFL's substance-abuse policy, a player must miss multiple drug tests before he would be subject to a suspension.
A year ago, Bell was suspended for the first two games, for a violation of the NFL's substance abuse policy after he was arrested for marijuana possession and DUI in 2014.
The Steelers running back maintains that he'll be cleared of any wrongdoing, and won't miss any time: "I'm gonna win the appeal," Bell wrote on Instagram. "… [People] have no idea what happened, but don't worry … let 'em hate, when I end up missin' no games at all, [people] for sure gonna try to love me again and I'm only ridin' with my LOYAL fans!!"
Players rarely have their suspensions overturned, though Bell could be the exception. First, Bell missed his test dates because he changed his cell phone number. Second, Bell could get out of his suspension if the drug tester didn't make good contact to schedule his test.
According to the NFL's "Policy and Program on Substances of Abuse," Section 1.6 Location Information and Notice states: "Players who are in the Intervention Program are required to provide the Medical Advisor and Medical Director with an address and telephone number where they can be reached at all times, and the Medical Advisor shall attempt to notify the Player using the method that is reasonably calculated to provide notice to the Player in a timely manner."
Even with neutral arbitration now available in suspensions under the substance-abuse policy and the PED policy, no one believe Bell has a strong chance to win the appeal. For a guy in the program, an obligation exists to notify all appropriate persons of a change in cell service. Otherwise, a guy could avoid testing simply by buying a new phone.
If Bell wins his appeal he'll theoretically be available for the Steelers' season opener against the Redskins on Sept. But here's another circumstance to consider: Bell could still be recovering from the knee injury that forced him to miss the final of the 2015 season.
Despite Bell's potential absence, the Steelers remain second favorites to win Super Bowl, along with the Green Bay Packers, behind only the New England Patriots (13/2). The Bell news did not cause any changes to Steelers' Super Bowl odds.
No date for Bell's appeal has been set, though it's expected that it will be heard before Week One of the regular season. If it isn't overturned, Bell would miss the first four games of the season.
For now, the best move for the Steelers will be to assume that DeAngelo Williams will once again carry the load early in the season after Bell makes his exit following the fourth preseason game.
Since Bell entered the league, his 119 yards per game leads all players. He caught 83 passes for 854 yards two years ago along with his 1,361 rushing yards.
Categories: Sports