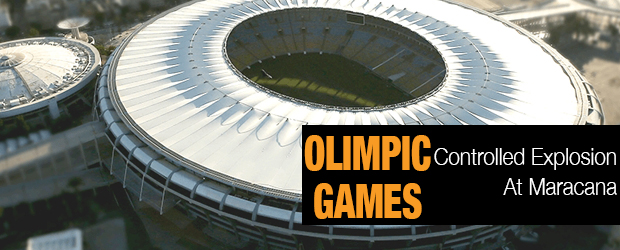 With the commencement of the Rio 2016 Olympics just days away an explosion has rocked the Olympic stadium in Rio, when bomb disposal experts were called to Maracana Stadium and used a controlled explosion to destroy a suspicious package after police found a suspicious toolbox.
Authorities sent in a robot to investigate the toolbox on Sunday at the Maracana Stadium as rehearsals for the ceremony were underway. The toolbox is believed to have exploded when the robot touched it. There are no reports of any injuries and authorities have yet to confirm whether the package was in fact a bomb or not.
The controlled explosion raises serious concerns about the safety of athletes and spectators alike at the Rio Olympics, with the opening ceremony starting in just five days.
The Games have been blighted by controversies amid fears for the safety of athletes and those attending.
In April, a newly built cycle path which was constructed as a legacy project for the games collapsed, leaving two dead.
Last week, protesters, including teachers on strike, stole and extinguished the Olympic torch in Rio de Janeiro Wednesday, which has cast further shadow over the credibility of Brazil's ability to host the Games as it has raised concerns about potential disruptions when the Summer Olympic Games begin. To steal the torch from official Olympic runners, the protesters threw stones and bricks at police and physically attacked those participating in the event.
And just hours ago, the Australian team were the victims of theft from their high security residence. Thieves gained access to their rooms before making off with two laptops and several shirts while the team was outside following an evacuation due to a fire alarm.
Australian chef de mission Kitty Chiller said: "When I arrived midway through the evacuation I saw three fire (officers)… I don't know which one they were from… walking out with team shirts.
"There is no CCTV in the village. At the time I did not know (who they were). They were not team members. I did not know then whether they were volunteers who were given shirts because they helped to evacuate us."
Another journalist dismissed initial reports the explosion occurred inside the stadium. Pure joke! Stop creating false news! I am journalist here in Brazil and there was nothing in the Maracana today,' tweeted Rafael Leal, a reporter with CBN.
Much of the confusion emanated from a report by the Seven Network, a host broadcaster of the Games, that said a suspicious toolbox had been exploded inside the stadium. That report rapidly spread on social media.
The 78,000-plus capacity Maracana is set to host the Olympic Opening Ceremony on Friday and the closing ceremony on August 21.
The Maracana is Brazil's most iconic stadium and was the site of the World Cup final in 1950 and again in 2014.
The Olympic Games represent the pinnacle of world sport, and you can join the action, sign up now at http://heritagesports.eu
Categories: Sports