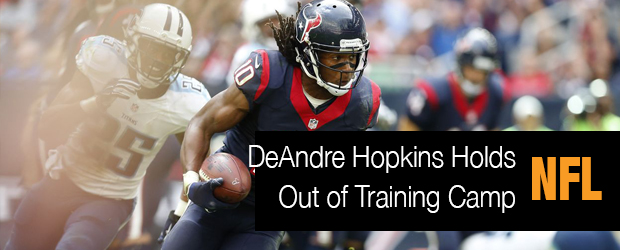 Houston Texans wide receiver DeAndre Hopkins did not show up to training camp practice on Sunday morning which was interpreted by the team as he is holding out to seek a new contract. Later Sunday, the Texans moved Hopkins from the reserve/did not report list back to the active roster.
Hopkins, who is entering the fourth and final year of his rookie deal, did not report for the start of camp. He will be subject to fines of $40,000 for each day of camp he misses.
Texans general manager Rick Smith said in a statement Saturday. "He has expressed his position regarding his contract status, and we have been clear with both he and his representatives of ours.
"Our focus is on the 2016 season and all of our collective efforts and attention will be centered on that endeavor."
When asked specifically how much of his goal is to be with the Texans for the long term, Hopkins said, "I really don't have no thoughts on that. I can control what happens day to day, and that's me coming out here and doing my job the best I can."
Despite playing with several quarterbacks and no elite passer Hopkins has developed into one of the game's rising talents at wide receiver. He became the first player in NFL history to record 100-yard games from four different quarterbacks in the same season. He has amassed more than 1,200 receiving yards each of the past two seasons. In 2015 he finished the year, with 1,521 yards, 111 catches and 11 touchdowns.
Because the Texans picked up the fifth-year option on Hopkins' contract in May, he technically has two seasons left on his deal. He also has a $445,000 roster bonus due Wednesday, the fifth day of camp, that he will miss out on if he hasn't returned by then.
A week ago, Hopkins expressed hope that his contract situation would resolve itself this offseason.
"I'm not looking for a certain range," Hopkins said during a break at a football camp for local children. "I just want to be treated for what I'm worth. That's fair to say, right?"
Hopkins is due $1 million in base salary in 2016. He is also slated to receive a $445,000 roster bonus later this week.
"I've just got to keep working," Hopkins said. "I know it will come. I'm not rushing it. I know it will happen one day."
When asked to elaborate, Hopkins said, "All I can do is go out there and play football and keep continuing to do what I'm doing and what I know I can do."
Expectations are high for the Texans' offense after they invested in their offense by signing quarterback Brock Osweiler and running back Lamar Miller. They also used a first-round pick on speedy Notre Dame receiver Will Fuller and a third rounder on Braxton Miller from Ohio State.
To live the excitement of training camp and NFL season you just need to sign up at: http://heritagesports.eu
Categories: Sports