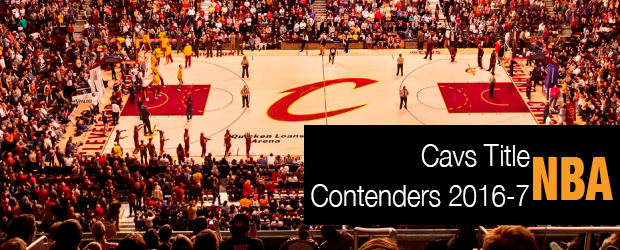 Attention lays on NBA's 2015–16 champions, Cleveland Cavaliers and if the trio of Lebron, Irving and Love can pull of a repeat performance. While the three-headed monster helped the Cavaliers end Cleveland's brutal 52-year championship drought the repeat may be tougher than ever, as the rest of the NBA is improving at a rapid rate.
The Golden State Warriors have created their own "super team," while the San Antonio Spurs, Los Angeles Clippers, Oklahoma City Thunder, Boston Celtics, and many other teams seem poised to push the Cavaliers. Fortunately, the Cavs still have plenty going for them, which is what makes a serious contender to win another championship. Let' have a look.
There is still uncertainty as to who would replace J.R. Smith if he was to leave, but the truth is that the team has more talent to push any team in the NBA.
And of course, we can't forget the fact that James himself can essentially carry a team if needed.
Let's clarify that while the Western Conference is indeed better than the Eastern Conference, the East has improved quite drastically over the 2016 offseason. Teams like the Boston Celtics, Indiana Pacers, New York Knicks, and the Toronto Raptors are just a few that could actually make a push against the Cleveland Cavaliers this year.
With that said, those four teams still aren't on the same level as groups like the Golden State Warriors, San Antonio Spurs, Los Angeles Clippers, Oklahoma City Thunder, and even the Memphis Grizzlies. The West truly has talent from top to bottom, which will make life tougher for each of the Eastern teams we mentioned. In turn, it makes the road to the NBA Finals just a bit easier for the Cavaliers.
To go along with that thought process, if and when the Cleveland Cavaliers is able to work through the Eastern Conference, they will inevitably face a team in the West that overcame a brutal stretch to get to the finals; one that probably was tougher than what the Cavs faced.
The Cleveland Cavaliers are, and should be, one of the favorites to win the NBA title once again. There's no question that they are exceptionally talented and have a player in James who is likely the best in the league. To go along with that, when you have two players competing alongside of him in Irving and Love, who are also capable of taking over at times, it pushes the team to the next level.
The Cavaliers' road to back-to-back championships won't be an easy one, but counting out James due to the improvement of other teams is a bad idea.
So, take a look at the odds and determine where you think the value is, sign up now at http://heritagesports.eu
Categories: Sports