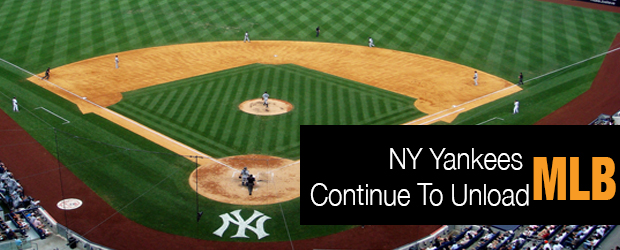 It is known that the effects of all these deals will only be reflected in time, while some rumors turn out to be true some others move are hard to understand. In the middle of all this trading, betting on MLB becomes more interesting. We just saw a trade deadline where some teams did great moves loading up in a clear intent to go for it this year, while the Yankees showed themselves as the biggest seller.
This is the time when teams like the Cubs and Indians look like the official World Series favorites … and the Yankees seem to be clearing their multimillion ugly contracts off their payroll.
Theo Epstein, Jed Hoyer and the Cubs attacked the deadline like Michael Jordan once attacked the rim. Saw they needed to build a bullpen that could protect a one-run lead in October — and bam, reeled in Aroldis Chapman, Joe Smith and Mike Montgomery.
A few hundred miles to the east, the Indians of Chris Antonetti and Mike Chernoff were following the same script. They paid a huge price to go get Andrew Miller. But it isn't just their bullpen that isn't the same because of it. It's their clubhouse and their whole city. Which was already buzzing with LeBron Fever.
Meanwhile, the Yankees of Brian Cashman had to make a totally different decision, but one just as momentous. It was their time to move veterans and move forward. Once they were through dealing away Chapman, Miller and Carlos Beltran, they suddenly had a system with six of Keith Law's top 50 prospects in baseball.
Prospects give the Yankees something else, too a reminder that in baseball, not all the currency can be measured in dollar bills.
"They still have money," said a third exec. "So this winter, if they want to spend money to sign a closer say, Kenley Jansen, they'll always be able to do that. But now they also have prospects as currency. And I fully expect they'll take that currency and use it this winter to make deals, at a time when there isn't much in free agency."
To the people who run these teams, the trade deadline isn't some giant rumor fest. It's an important moment in time. It's a moment when the best GMs in the business don't just weigh who they're trading and what they're giving up. They need to have a special feel for the meaning of this moment. And that feel leads to the most powerful decisions they can make.
"The biggest thing we talk about," said one of the execs quoted above, "is that you truly never know. You don't know what's going to happen next year. So I think it's important to know when it's time to make those decisions. The worst thing you can do sometimes is worry about the future. When your team is good enough, the only thing you can really worry about is now. And sometimes that means you have to just go for it."
Knowing when that time has arrived isn't a skill these guys can learn in some sports management school. It's more like a sixth sense, a voice only they can hear that points them toward doing things they might not ordinarily do. But they have to be listening to hear it.
Whether you go with your sixth sense or you've developed skills, there is a place for you in betting on MLB, sign up now at http://heritagesports.eu
Categories: Sports