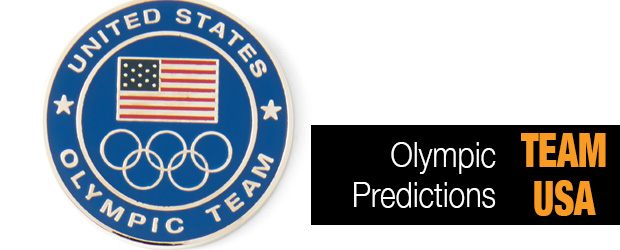 The Olympics have the capacity to surprise but in sports, we can talk about odds and predictions. The USA is likely to win a lot of medals in Rio. Both basketball teams should take gold. A lot of swimmers and gymnasts will win.
Justin Gatlin might take down Usain Bolt last year at the IAAF World Championships. Gatlin had the 28-race win streak and all the fastest times of the year. Bolt had been ailing. But in the 100-meter final, a charging Bolt ran down Gatlin and won by 0.01 seconds.
This year looks like a replay so far. Gatlin ran the two fastest 100-meter times of 2016 a few weeks ago in Eugene, Oregon. Bolt pulled out of the Jamaican trials with a hamstring tear, though he seemed OKin the 200-meter dash in London in late July.
Gatlin (34) is older than Bolt (29). But he has posted the fastest times of his career in the seven years since serving a four-year doping suspension. Bolt was out of this world in 2009. Since then, the Jamaican has been just good enough to hold off Gatlin. Bolt may do so again in the 200 in Rio, but Gatlin's recent times and the Jamaican's hamstring issues will give the American the 100.
The good news: When the U.S. sprinters get the baton around the track cleanly in the 4×100-meter heats and the final, they tend to win. The bad news: They've only won once in the last nine major meets (Olympics and World Championships).
Here are some lowlights:
Bungled baton exchanges and silver medals: 2004(Justin Gatlin to Coby Miller), 2013 (Mookie Salaam to Gatlin).
Disqualified (DQ) or did not finish (DNF), illegal exchanges or drops:2005(Mardy Scales to Leonard Scott), 2008 (Darvis Patton to Tyson Gay), 2009 (Shawn Crawford to Patton), 2011 (Patton fell; see video above), 2015 (Gay to Mike Rodgers).
In 2012, Team USA finished second in a race for the ages, with Usain Bolt anchoring Jamaica to a world record. But the USA relinquished the silver medal because of Gay's doping violation.
Oh, and Gay was once again part of a botched exchange at this year's Penn Relays.
The coach is Dennis Mitchell, who was part of a winning team in 2001 until doping authorities caught up with Tim Montgomery. Gay, Gatlin and Rodgers are once again part of the relay pool. But their talent and experience may not be enough to overcome their shoddy exchanges.
Barring illness or perhaps a meteor striking Rio, Katie Ledecky will win gold in the 800-meter freestyle. She doesn't just own the world record, set earlier this year, but she also has the five fastest times ever in the event. For the rest of the world, finishing within 10 seconds of the 19-year-old American is an accomplishment.
The 400-meter freestyle is another safe bet. She's chasing her own records.
But the 200-meter freestyle is no sure thing. Italy's Federica Pellegrini still holds the world record, set in 2009, and her time of 1:54.55 from June 26 is faster than Ledecky's trial-winning time of 1:54.88.
Ledecky went slightly faster (1:54.43) in January, but Sweden's Sarah Sjostrom beat that at last year's FINA World Championships, finishing at 1:54.31. And we don't want to count out Missy Franklin, who has been battling the lingering effects of a back injury but still made the team in this event.
Franklin will help in the 4×200-meter freestyle relay, as will likely 400-meter medalist Leah Smith and Allison Schmitt, who's the defending Olympic champion in the event and might have made the individual race from any country other than the USA. But peek at the world rankings and you'll find two Chinese swimmers ahead of every American but Ledecky.
Ledecky may still have better than 50-50 odds to take four gold medals. (Now that she has been added to the 4×100-meter relay, she has a chance at five, but the USA is not favored in that race.) But two of those will be tricky, particularly for someone who'll have to be in and out of the pool to compete in five races and their prelims.
Get all the latest Betting and Sport News updates on your social media outlets. Find us on Facebook!
Categories: Sports