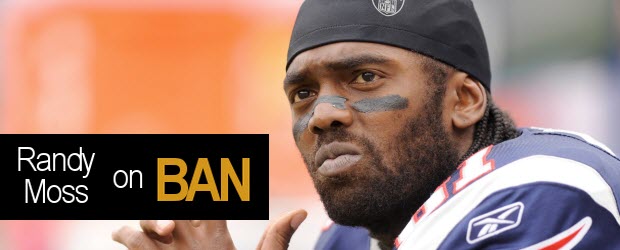 While the new collective bargaining agreement won't be signed (knock on wood) until 2020, the movement for legalizing a substance that is classified the same as cocaine or crystal meth is starting to gain some momentum.
More former players than ever are crediting cannabis for saving them from football's mental and physical tolls — including dementia and death — while the league remains steadfast in its insistence that marijuana use be banned, and its users be banished from the league.
In the midst of all this, one of the greatest wide receivers to play in the NFL has simple advice for the league's rulemakers: Lighten up, and let them smoke.
The NFL needs to "loosen up," future Hall-of-Famer Randy Moss said. "I think the NFL just needs to loosen up the rules and let everybody live," Moss said during an appearance on Monday.
During Randy Moss' NFL career, in which he caught 982 passes for 15,292 yards and 156 touchdowns, he openly admitted to smoking marijuana. So, it should come as no surprise to hear Moss, who hasn't played since the 2012 season, rail against the league's marijuana policy.
Just last week, former running back and drug pariah Ricky Williams said cannabis use quelled his anxiety and allowed him to play through pain. His former teammate Kyle Turley credits marijuana for getting him off prescription painkillers and, possibly, saving him from suicide. And former quarterback Jake Plummer also credits cannabis for keeping his post-playing career life together.
While the NFL is glad to hand out Oxycontin's like candy as the push players to get on the field faster, the study of and the legalization of still seem miles away if you ask the iron-fisted NFL commissioner, Roger Goodell.
At this season's past Super Bowl, Goodell didn't make it sound like the policy will be changing in the near future. "It's an NFL policy and we believe it's the correct policy for now and in the best interest of our players and the long-term health of our players," Goodell said with a straight face during the run-up to the Super Bowl.
Recent famous pot casualties in the NFL include wide receiver Josh Gordon, who has not played since 2014 after failing drug tests, and draftee Laremy Tunsil, who saw his draft stock plummet —costing him money — after video of him appearing to smoke from a gas mask bong was posted to his Twitter account.
Drug use has long been considered a "character issue" for would-be players in the NFL (where the madness and paranoia from post-concussion syndrome is a common reward for "character" guys). Moss had smart words for that, too.
"My definition of "character issues" is based on if a guy is hurting his teammates. I think when you are caught on camera smoking something or slamming a six-pack of beer, that's not a character issue. I think if a guy is out there driving under the influence, beating women or doing something that will really hurt others, that's where you have to be able to draw the line."
Categories: Sports