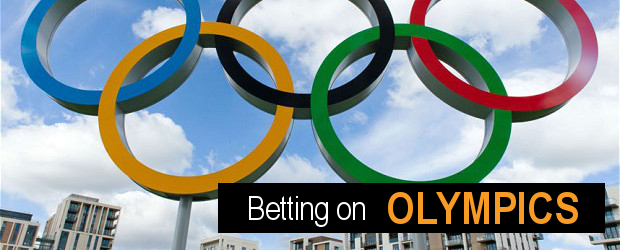 Anyone with a TV can watch the Olympics in Rio de Janeiro, Brazil. Real gamblers will be laying bets in Sin City, thanks to a new ruling by the Nevada Gaming Board allowing gamblers to bet on Olympic scheduled events for the first time in 15 years, back in February of 2015.
With less than three months until the Summer Olympics commence in Rio, sportsbooks within the state have expanded the number of offerings from eight wagering options to 49, featuring a number of popular events.
Jamaican sprinter Usain Bolt is back for his third Olympics after winning gold in the 100 and 200 meters along with the 4×100 meter relay in 2008 and 2012. Bolt is one of the top athletes in the spotlight, and he is listed as a large -350 favorite to win the 200 meters for a third time. You can also wager "No" on Bolt winning the 200 with a return of +290 (bet $100 to win $290).
Of all the favorites on the men's side, American decathlete Ashton Eaton is the biggest currently available at -700 to repeat in that grueling 10-event, two-day contest. Eaton won the gold medal in London and holds the world record with 9,045 points scored in the 2015 World Championships held in Beijing. Bettors choosing to wager "No" on the possibility of Eaton repeating can get +500.
While Bolt and Eaton are each looking to repeat their past Olympic feats in Rio, one woman is a bigger favorite than any athlete. Polish hammer thrower Anita Wlodarczyk is massive -1300 chalk following a second-place finish in London.
Wlodarczyk is the current world record holder, and she is the only female to throw the hammer more than 80 meters. She won gold at the 2009 and 2015 World Championships before falling short in the Olympics four years ago. Wlodarczyk lost to Russia's Tatyana Lysenko then, and bettors who think she might end up finishing first in Rio can get +800 odds.
In honor of the occasion here are some basic general tips for betting in Vegas and win:
Get Smart
Attend the complimentary wagering seminars. A panel of speakers give the download on a variety of topics including the basics of sports wagering, how to bet on Olympic sports and popular athletes and teams with a chance at gold.
Limit Your Limits
Pre-determine how much you are willing to spend before betting. Bettors should come with the expectation to have fun and bet a little to win a lot, but shouldn't expect to make a fortune.
Play Patriotically
One of the greatest parts of betting on the Olympic Games is that sports bettors can place winning wagers on their country and unite with other players. Finding the underdog bet where you can risk little but win a lot is what many casual players like to aim for.
Scope Out your Favorite Book in Advance
If you want to guarantee you have the best seat in the house to watch the Olympics, you should arrive early and speak to the sports book manager about reserving a seat.
Book a Sweet Suite
Book your room well ahead of time if you plan to be in town during a particular sport. High rollers will want to reserve one of suites that make for the ultimate Olympics party.
Study Up on The Strip
Wandering the Strip is easily avoidable if you know where you want to go to place bets and how far each casino property is from one another. Make sure to look at a map and mark down the places you are trying to play before you even arrive.
Categories: Sports