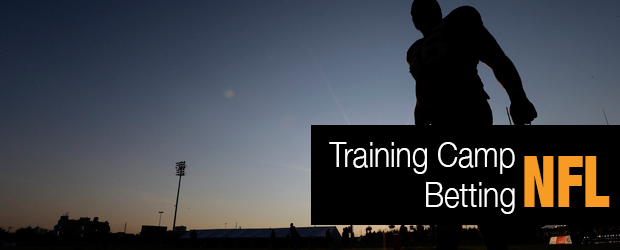 NFL Season is only a few weeks away, and training camp has kicked off for all 32 teams. For NFL Bettors it's hard to know how good or how prepared an NFL team is going to be until the regular football season starts. It's really hard to judge from the preseason what is going to happen – sometimes good teams look great and other times they look lousy, while bad teams can dominate in August. Ultimately, preseason doesn't count so different teams approach it in different ways.
It is not necessarily a good idea for NFL bettors to read too much into what you see in the preseason, there are some warning signs that a football team could be heading towards a disappointing performance in the regular season. Here are some of those signs that NFL bettors should be looking for as the 32 teams perform over the next few weeks.
Injuries
Conditioning is number one you want to see players come back in improved shape not coming to improve shape, and with this comes one ugly and inevitable part of football, injuries. At some point during the season every team will face injury hurdles. Some of the fantasy football candidates, both big names and sleepers, are nursing or recovering from injuries this offseason.
If those hurdles come at the start of the season, though, then the team is in a hole that could be tough for them to climb out of. In betting, it is necessary to understand the nature of injuries, and the duration the athletes might take before returning to the field.
It will force teams to make changes and adjustments when they are already likely struggling to figure out where they are supposed to be and what they are supposed to be doing. A lot of NFL training camp injuries could also be an indication of problems in the training program of the team.
Player Suspensions
The NFL is a very tricky place that demands a lot of discipline both on and off field for success. Unfortunately, some players have a knack for getting into problems, something that has cost them great opportunities and limited their performance due to suspensions.
The list of offseason suspensions has been growing by the day. According to Commissioner Roger Goodell, there seems to be an epidemic of indiscipline, which can only be curbed by firm and proactive decisions. Fortunately, players suspended for the season are still allowed to practice in Training Camps, but there is a high likelihood that we will be seeing the replacement options getting more snaps.
Inconsistent game performance
One thing to look for is teams and starting players – who are wildly inconsistent form game to game. If a team looks great in one game, impossibly bad in their next, then pretty good in the next one then it could be a sign that they lack some focus, or that they aren't easily able to adapt to different kinds of opponents.
The list goes on, and we will come back to it as we get ready for some NLF betting action.
Categories: Sports