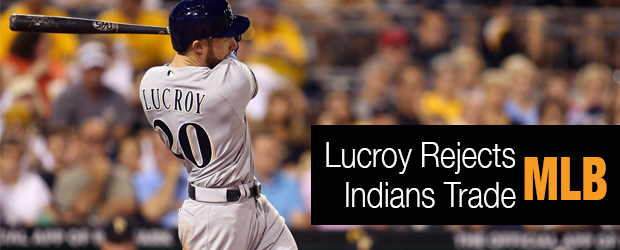 There was a big buzz over the weekend in regards to Cleveland Indians nearing a trade for Milwaukee All-Star catcher Jonathan Lucroy in exchange for four minor leaguers: catcher Francisco Mejia, shortstop Yu-Cheng Chang, outfielder Greg Allen and right-hander Shawn Armstrong.
The Indians have been on top of their division for most of the season, they lead the AL Central by 4 1/2 games over Detroit. They have been in the market for a catcher since Yan Gomes separated his right shoulder earlier this month, and Cleveland has been actively looking to upgrade its offense for several weeks. They believe that with one of baseball's best starting rotations, they can win the pennant and perhaps follow their next-door neighbors, the Cavaliers, and win another championship for Cleveland.
The Cavs ended the city's 52-year title drought in June, coming back to beat Golden State in the NBA Finals.
The 30-year-old was held out of Milwaukee's lineup Saturday night, a signal the teams were closing in on a trade. He's batting .300 with 13 homers and 50 RBIs.
Despite repeated statements about his desire to play for a contending club Lucroy has chosen not to play for the Indians, who were one of the eight teams to which he could veto a trade under his contract's limited no-trade provision.
Brewers General Manager David Stearns said during a Sunday press conference that The Indians were on Lucroy's no-trade list.
Brewers infielder and manager Craig Counsell said there may be more to come on Lucroy before the 3 p.m. Monday trade deadline arrives. But until then, Lucroy is a Brewer. "I still predict this will be a crazy 36 hours. He's here, and I'm planning on him being here for now."
Lucroy said he made his decision based on family and a desire for a long-term commitment then he released a statement:
"I know you guys want details, but I'm not going to give them. Some circumstances came up and made me void it, obviously. I think when it comes out, everyone will understand why. That's it. I'm not going to comment on any specifics, nothing like that, as much as I'd like to. I'm respecting their process and what the Brewers are trying to do in terms of the trade. If that's going to happen or not, i don't know. As of right now, I'm still a Brewer and I'm going to be until somebody tells me different."
Of course, the fact that Lucroy didn't approve this trade doesn't ensure that he'll be remaining with Milwaukee. There are 21 teams to which Lucroy cannot block a deal, and two of those clubs the Rangers and Mets have both been linked to him frequently within the past week. For the time being, however, Lucroy will remain with the only organization he's ever known. He is considered by many one of the most likely to be moved before the deadline, Monday 3pm.
Categories: Sports